Last week I finished reading The Nightingale by Kristin Hannah about a week and a half ago.
From Goodreads: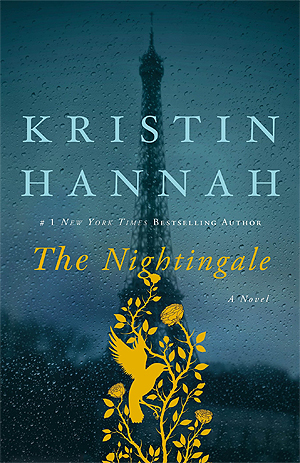 Despite their differences, sisters Vianne and Isabelle have always been close. Younger, bolder Isabelle lives in Paris while Vianne is content with life in the French countryside with her husband Antoine and their daughter. But when the Second World War strikes, Antoine is sent off to fight and Vianne finds herself isolated so Isabelle is sent by their father to help her.
As the war progresses, the sisters' relationship and strength are tested. With life changing in unbelievably horrific ways, Vianne and Isabelle will find themselves facing frightening situations and responding in ways they never thought possible as bravery and resistance take different forms in each of their actions.
I liked this book. It wasn't one that I couldn't put down. Or was one that I was completely engaged in. But I'm really interested in anything about the Holocaust so that kept me going.
I didn't really connect with either of the sisters. They were both such opposite ends of the specturm when it came to the war. But without giving anything away, Vianne does eventually do something--and if I was going to do anything in the war, I'd do what she did.
There is a present-day narrator that has a few chapters and you know it's going to be one of the sisters. I was wrong in who I thought it would be though.
Overall, I enjoyed the book. I just wish I could have connected with the characters more.
I gave this book a rating of 3/5.
FTC Disclosure: I bought a copy of this book.