A few days ago, I started AND finished Jesse's Girl by Miranda Kenneally all in one day!
From Goodreads: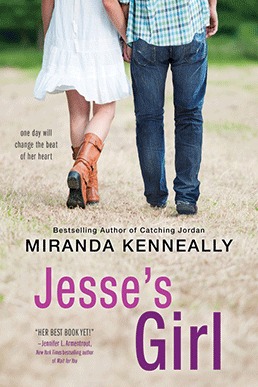 Everyone at Hundred Oaks High knows that career mentoring day is a joke. So when Maya Henry

But spending the day with Jesse is far from a dream come true. He's as gorgeous as his music, but seeing all that he's accomplished is just a reminder of everything Maya's lost: her trust, her boyfriend, their band, and any chance to play the music she craves. Not to mention that Jesse's pushy and opinionated. He made it on his own, and he thinks Maya's playing back up to other people's dreams. Does she have what it takes to follow her heart—and go solo?
said she wanted to be a rock star, she never imagined she'd get to shadow *the* Jesse Scott, Nashville's teen idol.
It's been a long time since I've sat down and finished a book in one sitting. I thought I liked Miranda Kenneally's books because of the sports aspect, but this one didn't have anything to do with sports so it's gotta be her writing style.
I loved Maya. I loved that she had a rock star side, which I don't normally like, but with a girly touch. And I liked Jesse, once you got past his tough guy front. They were an unlikely pair but it worked.
I found myself just as intrigued in this music world as I was in the sports world of Hundred Oaks. And I love how all of the characters in this series (well, it's not a series but a set of books with related characters) and related back to one another just slightly. I can't wait to see what the next books will be about!
I gave this book a rating of 4.5/5.
Jesse's Girl
will be released on July 7, 2015.
*FTC Disclosure: I borrowed this book from a friend.