I just finished reading Unbreakable (The Legion #1) by Kami Garcia.
From Goodreads: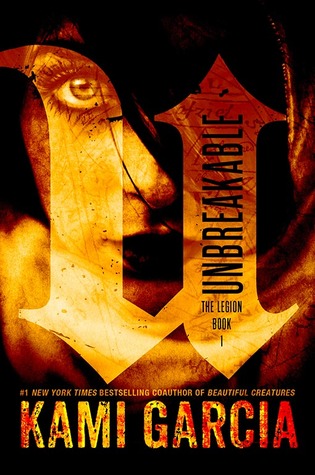 Supernatural meets The Da Vinci Code in this action-packed paranormal thriller, the first book in a new series from New York Times bestselling author Kami Garcia.

I never believed in ghosts. Until one tried to kill me.

When Kennedy Waters finds her mother dead, her world begins to unravel. She doesn't know that paranormal forces in a much darker world are the ones pulling the strings. Not until identical twins Jared and Lukas Lockhart break into Kennedy's room and destroy a dangerous spirit sent to kill her. The brothers reveal that her mother was part of an ancient secret society responsible for protecting the world from a vengeful demon — a society whose five members were all murdered on the same night.

Now Kennedy has to take her mother's place in the Legion if she wants to uncover the truth and stay alive. Along with new Legion members Priest and Alara, the teens race to find the only weapon that might be able to destroy the demon — battling the deadly spirits he controls every step of the way.

Suspense, romance, and the paranormal meet in this chilling urban fantasy, the first book in a new series from Kami Garcia, bestselling coauthor of the Beautiful Creatures novels.
I wasn't really sure what I was going to think about this one. I wanted to read it because I'd heard of the author but I wasn't really sure about the premise. I was pleasantly surprised though--I really liked it!
The action kept me hooked. The whole idea of the Legion and how the responsibility of the members is passed down through the generations. And the ghosts and demons in the stories were scary without being too dark which turns me off. It all just worked.
And of course every good story needs at least a little bit of romance. And this had a slight love triangle in it. Plus, come on--two of the main guys are identical twins! (which I'm obsessed with--considering my hubby is a twin!)
I've already looked up the title for the next book in the series, Unmarked, and added it to my wish list!
I gave this book a rating of 4/5.
*FTC Disclosure: I was given this book for free for an honest review as part of the Around the World Tours.