I started AND finished The Secrets We Keep by Trisha Leaver for an
Around the World ARC Tour
.
From Goodreads: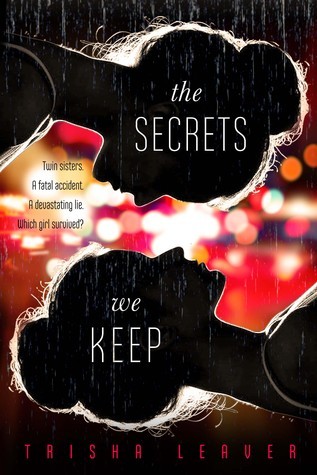 A girl takes over her twin sister's identity in this emotionally charged page-turner about the complicated bond between sisters.

Ella and Maddy Lawton are identical twins. Ella has spent her high school years living in popular Maddy's shadows, but she has never been envious of Maddy. In fact, she's chosen the quiet, safe confines of her sketchbook over the constant battle for attention that has defined Maddy's world.

When—after a heated argument—Maddy and Ella get into a tragic accident that leaves her sister dead, Ella wakes up in the hospital surrounded by loved ones who believe she is Maddy. Feeling responsible for Maddy's death and everyone's grief, Ella makes a split-second decision to pretend to be Maddy. Soon, Ella realizes that Maddy's life was full of secrets. Caught in a web of lies, Ella is faced with two options—confess her deception or live her sister's life.
I know I've said it before, but I've always been fascinated by twins (and even married one) so I knew I had to read this story. And it didn't let me down.
I was instantly hooked reading this story and finished it in about 2 hours--all without getting off the couch. I was so drawn in to Ella's world. I could FEEL her pain. And I could understand why she decided to be Maddy but I can't even imagine how hard that must have been.
There was a little twist in the story, with Maddy's secret but it wasn't the main point of the book. It was more about the pain of losing your other half and coming to understand just who she really was.
As for the boys, I really liked them both. I didn't want to like Alex since it seemed like Maddy's choice of friends was questionable but he fully and completely loved Maddy. And then Josh. How oblivious were both he and Ella not to see that there was something there from the beginning?!?!
And while the story does wrap up quite nicely, I would eagerly read a story about what happens next!
One of my favs of the year!
I gave this book a rating of 4.5/5.
The Secrets We Keep
will be released on April 28, 2014.
*FTC Disclosure: I was given this book for free for an honest review as part of the Around the World Tours.