I finished Walk on Earth a Stranger by Rae Carson last week for an
Around the World ARC Tour
.
From Goodreads: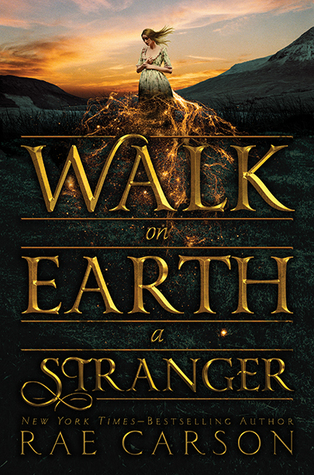 Lee Westfall has a secret. She can sense the presence of gold in the world around her. Veins deep beneath the earth, pebbles in the river, nuggets dug up from the forest floor. The buzz of gold means warmth and life and home—until everything is ripped away by a man who wants to control her. Left with nothing, Lee disguises herself as a boy and takes to the trail across the country. Gold was discovered in California, and where else could such a magical girl find herself, find safety?

Walk on Earth a Stranger, the first book in this new trilogy, introduces—as only Rae Carson can—a strong heroine, a perilous road, a fantastical twist, and a slow-burning romance. Includes a map and author's note on historical research.
I don't really do historical books. They tend to bore me. So I almost passed this one up. Luckily the owner of the blog tours I participated in told me I needed to read it, and I'm so glad she did!
Reading this book was like reading about the real life Oregon Trail game (which I loved when I was in elementary school!). Seriously--illness, and hunger, and oxen, and covered wagons! Life back then was so hard and reading about the trials of going across the country for the gold rush really interested me.
I know that Leah had a secret power of being able to sense gold but I don't feel like it was a huge part of the story. I mean, it was a huge part in the reason she was going across country in the first place, but I don't feel like her power was a major force in the book.
I really enjoyed all of the characters. I loved how strong Leah was yet she still had a bit of girly-ness to her. And all of the side characters on her journey kept me interested as well.
I'm glad to see that this is going to be a trilogy. I'll definitely be picking up the next one. Now excuse me while I go play Oregon Trail.
I gave this book a rating of 4.5/5.
*FTC Disclosure: I was given this book for free for an honest review as part of the Around the World Tours.