I finished reading A Court of Thorns and Roses by Sarah J. Maas last night for an
Around the World ARC Tour
.
From Goodreads: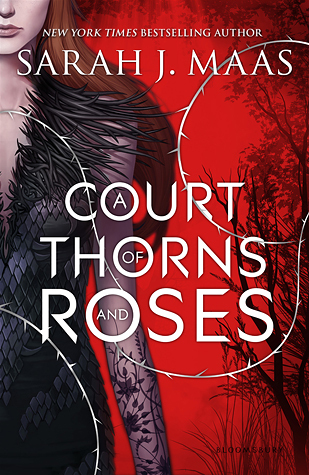 A thrilling, seductive new series from New York Times bestselling author Sarah J. Maas, blending Beauty and the Beast with faerie lore.


When nineteen-year-old huntress Feyre kills a wolf in the woods, a beast-like creature arrives to demand retribution for it. Dragged to a treacherous magical land she only knows about from legends, Feyre discovers that her captor is not an animal, but Tamlin—one of the lethal, immortal faeries who once ruled their world.

As she dwells on his estate, her feelings for Tamlin transform from icy hostility into a fiery passion that burns through every lie and warning she's been told about the beautiful, dangerous world of the Fae. But an ancient, wicked shadow grows over the faerie lands, and Feyre must find a way to stop it . . . or doom Tamlin—and his world—forever.

Perfect for fans of Kristin Cashore and George R. R. Martin, this first book in a sexy and action-packed new series is impossible to put down!
I was really excited to read this one for 2 reasons. 1) I had read another series by this author and loved it and 2) not only is it a fairy tale retelling, but it was a retelling of Beauty and the Beast--my favorite!
However, I quickly realized this was not going to be a story that I was going to be completely engaged in. I found it really difficult to get lost in. There were so many weird creature names and character names that I had a hard time remembering what was what. And for some reason, the words didn't flow as easy for me. I found myself having to go back and re-read paragraphs.
But then a little over halfway through, something just clicked and I devoured the rest of the book. Maybe my brain just got it. I don't know. But I really fell in love with the world that Tamlin was in. And I could see how Feyre could love it there.
As for the main characters, I didn't love Feyre at first. I compared her to Belle right away, and Belle is my girl. Feyre--she was hard to love. She was strong and kept her family together, but it made her cold and and untouchable. Luckily, her time in the faery land softened her and made me love her. Tamlin--well, he was just the beast from the instant we met him so I loved him right away. Yup. I knew what was going to happen. And I loved that it did.
There were so many great things that I saw the connections to in Beauty and the Beast. Feyre's hobby was art, where as Belle's was reading. There was the blight in the book and the curse in Beauty and the Beast. I could picture the side characters as the ones I'm so familiar with. Even how she has to leave and come back is familiar.
So yes, it started off rough for me but I ended up loving it. I've always wanted a sequel to Beauty and the Beast. Not just one of the straight to DVDs but a real true sequel. And I'm seriously hating that I'm going to have to wait so long to get my hands on the sequel to A Court of Thorns and Roses. I NEED to know what is going to happen to Feyre and Tamlin!!
I gave this book a rating of 3.5/5.
A Court of Thorns and Roses
will be released on May 5, 2015.
*FTC Disclosure: I was given this book for free for an honest review as part of the Around the World Tours.