I finished reading City Love by Susane Colasanti for an
Around the World ARC Tour
.
From Goodreads: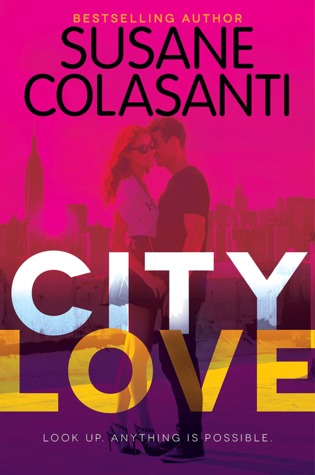 Sadie, Darcy, and Rosanna are living together in New York City the summer before their freshman
year of college begins. With no parents, no rules, and an entire city to explore, these three girls are on the verge of the best summer of their lives.

Sadie is a native New Yorker. She is hopeful, romantic, and an eternal optimist who is ready to find her soul mate. Then she meets her dream boy: cute, funny, and quirky in all the right ways. The chemistry between them is unreal. Could he be the one?

Darcy is a free spirit from SoCal with rebellious tendencies and unlimited financial resources. Moving to New York City is just another adventure for her. Darcy wants this summer to be all about boy adventures—nothing serious. But how much fun is too much?

Rosanna leaves Chicago for NYC so she can put her past behind her and reinvent herself. The only thing standing in her way is the grand total of seventy-three cents she has saved. Then she meets a guy who wants to show her the glamorous side of New York—a side that she would never get to experience on her own. If Rosanna doesn't resist, she may find herself in city love.

Told from alternating points of view, City Love captures the moments in each girl's life when everything is thrilling, amazing, and terrifying all at once . . . in a way it will never be again.
I hate when my feelings about a book differ from everyone else's on Goodreads. Makes me feel like I'm missing something. But it is what it is. And this book just didn't do it for me. It made me roll my eyes so many times, I lost count. Everything was butterflies and rainbows and spreading positive energy. Even when secrets came out that were terrible, I never got the sense that they were really that bad since everything around it was still puppies and kittens.
I felt that the book seemed really immature. The characters were about to go into college but for some reason, to me it read like younger girls (although what they were doing wasn't young). It just wasn't real.
The one thing I did like was the portrayal of New York City. I've always loved everything NYC and I loved reading that aspect of the book.
I gave this book a rating of 2.5/5.

City Love will be released on April 21, 2015.
*FTC Disclosure: I was given this book for free for an honest review as part of the Around the World Tours.