I just finished reading The Fill-In Boyfriend by Kasie West for an
Around the World ARC Tour
.
From Goodreads: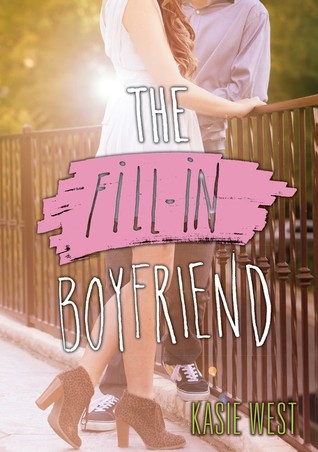 When Gia Montgomery's boyfriend, Bradley, dumps her in the parking lot of her high school prom, she has to think fast. After all, she'd been telling her friends about him for months now. This was supposed to be the night she proved he existed. So when she sees a cute guy waiting to pick up his sister, she enlists his help. The task is simple: be her fill-in boyfriend— two hours, zero commitment, a few white lies. After that, she can win back the real Bradley.

The problem is that days after prom, it's not the real Bradley she's thinking about, but the stand-in. The one whose name she doesn't even know. But tracking him down doesn't mean they're done faking a relationship. Gia owes him a favor and his sister intends to see that he collects: his ex-girlfriend's graduation party — three hours, zero commitment, a few white lies.

Just when Gia begins to wonder if she could turn her fake boyfriend into a real one, Bradley comes waltzing back into her life, exposing her lie, and threatening to destroy her friendships and her new-found relationship.
I've read several books by Kasie West so I was excited to read this one. And once again I really loved the plot. But the writing seemed a little immature to me and there were tiny details in sentences that I really didn't need to know about.
I liked Gia and I felt bad for her. Her choice in friends was pretty crummy. Well, maybe not her choice in them but rather the fact that she just let this new girl, Jules, come in and treat her horribly. I get that it was part of her personality to not try to rock the boat but come on! She was ruining the friendship with her best friends! And I liked Hayden a lot. The theatre boy with crummy choices in friends (yes, this one fit accurately.) And I loved Bec. Everyone needs a friend like her--one who is fiercely loyal and not afraid to say what she thinks.
The ending left me a little melancholy. I mean, Gia got the boy but there was no reconciliation with her friends. I like happily ever after and I want that to mean with friends too.
Overall, it was an enjoyable book and I look forward to seeing what Kasie West has up her writing sleeve next!
I gave this book a rating of 3.5/5.
The Fill-in Boyfriend
will be released on May 5, 2015.
*FTC Disclosure: I was given this book for free for an honest review as part of the Around the World Tours.