I finished reading The Rest of Us Just Live Here by Patrick Ness for an
Around the World ARC Tour
yesterday.
From Goodreads: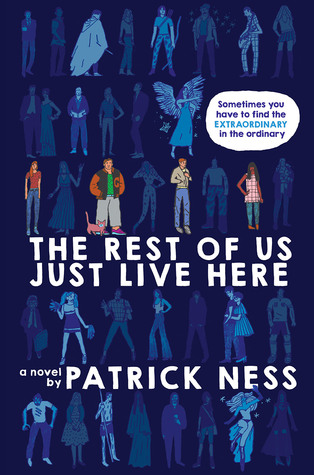 What if you aren't the Chosen One?

The one who's supposed to fight the zombies, or the soul-eating ghosts, or whatever the heck this new thing is, with the blue lights and the death?

What if you're like Mikey? Who just wants to graduate and go to prom and maybe finally work up the courage to ask Henna out before someone goes and blows up the high school. Again.

Because sometimes there are problems bigger than this week's end of the world, and sometimes you just have to find the extraordinary in your ordinary life.

Even if your best friend is worshiped by mountain lions.

Award-winning writer Patrick Ness's bold and irreverent novel powerfully reminds us that there are many different types of remarkable.
This book felt like it was trying to be both a contemporary novel and a strange sci/fi novel combined. And it didn't work. The author should have just stuck with contemporary and left well enough alone.
The main story was about a group of friends graduating from high school. They all have their own little traumas and issues. And reading about how they worked through those would have been good enough.
But then there's this sci-fi part thrown in that makes absolutely no sense. Something about Immortals and indie kids and glowing blue lights. We're given a paragraph at the beginning of each chapter and then some random things that happen throughout the story. It just didn't really work.
I liked Mikey and Henna and Mel and Jared and reading about their struggles. But every time I read a brief snippet of the weird sci-fi thing the author lost me all over again.
I gave this book a rating of 2.5/5.
The Rest of Us Just Live Here
will be released on October 6, 2015.
*FTC Disclosure: I was given this book for free for an honest review as part of the Around the World Tours.