I finished reading Liv, Forever by Amy Talkington a few nights ago.
From Goodreads: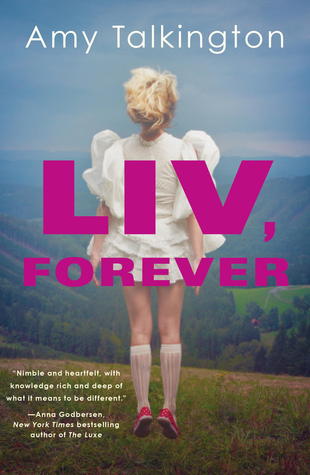 When Liv Bloom lands an art scholarship at Wickham Hall, it's her ticket out of the foster system. Liv isn't sure what to make of the school's weird traditions and rituals, but she couldn't be happier. For the first time ever, she has her own studio, her own supply of paints. Everything she could want.

Then she meets Malcolm Astor, a legacy student, a fellow artist, and the one person who's ever been able to melt her defenses. Liv's only friend at Wickham, fellow scholarship kid Gabe Nichols, warns her not to get involved, but life is finally going Liv's way, and all she wants to do is enjoy the ride.

But Liv's bliss is doomed. Weeks after arriving, she is viciously murdered and, in death, she discovers that she's the latest victim of a dark conspiracy that has claimed many lives. Cursed with the ability to see the many ghosts on Wickham's campus, Gabe is now Liv's only link to the world of the living. To Malcolm.

Together, Liv, Gabe, and Malcolm fight to expose the terrible truth that haunts the halls of Wickham. But Liv must fight alone to come to grips with the ultimate star-crossed love.
As you know, I love stories set at boarding schools, so this one was no different. Malcolm and Gabe--I thought there would be a love triangle but Gabe truly stays a friend throughout the whole story.
I thought I had it figured out but I only had it half right and was very wrong about part of it. And nope, I'm not going to give it away.
I felt bad for Liv. She had a rough upbringing (and while it had no effect on the story, I want to know what happened to her birth parents.) And she's finally happy and herself at the school, with a love interest, and then BAM! It all ends. But I guess the ending to that end ended as happily as possible (how many times can I use one word in a sentence??)
Anyways, this was a fun little mystery/ghost story that kept me entertained.
I gave this book a rating of 3.5/5.
*FTC Disclosure: I received this book for free from the publisher for a review.