I finished reading The Sun is Also a Star by Nicola Yoon today for an Around the World ARC Tour.
From Goodreads: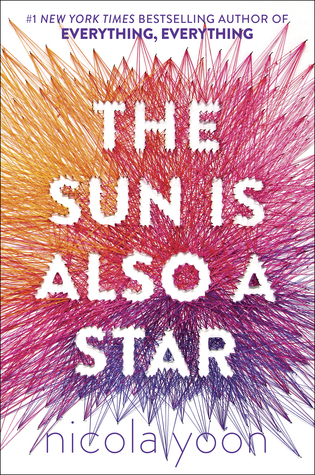 Natasha: I'm a girl who believes in science and facts. Not fate. Not destiny. Or dreams that will never come true. I'm definitely not the kind of girl who meets a cute boy on a crowded New York City street and falls in love with him. Not when my family is twelve hours away from being deported to Jamaica. Falling in love with him won't be my story.
Daniel: I've always been the good son, the good student, living up to my parents' high expectations. Never the poet. Or the dreamer. But when I see her, I forget about all that. Something about Natasha makes me think that fate has something much more extraordinary in store—for both of us.
The Universe: Every moment in our lives has brought us to this single moment. A million futures lie before us. Which one will come true?
This book had promise. The idea how small, insignificant decision or action can change your whole future intrigued me. And two strangers meeting and falling in love did too. Unfortunately, I just didn't get invested in the story.
Maybe it was because the narration changed hands so many times. And most of the chapters were extremely short--a page or two, or sometimes only a paragraph or two. And so I never really connected with Natasha or Daniel.
And talk about a quick love--too immediate for my tasting. It was more of a falling in lust. They didn't truly know each other in the short twelve hours so I don't believe it could be love. I did like the ending, before the epilogue. It gave this idealistic story a nice dash of reality.
I gave this book a rating of 3/5.
The Sun is Also a Star will be released on November 1, 2016.
*FTC Disclosure: I was given this book for free for an honest review as part of the Around the World Tours.