I just finished reading White Hot Kiss (The Dark Elements #1) by Jennifer L. Armentrout.
From Goodreads: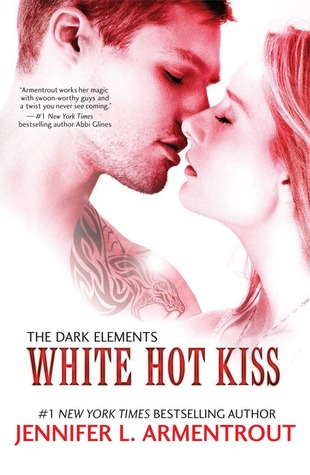 One kiss could be the last.

Seventeen-year-old Layla just wants to be normal. But with a kiss that kills anything with a soul, she's anything but normal. Half demon, half gargoyle, Layla has abilities no one else possesses.

Raised among the Wardens—a race of gargoyles tasked with hunting demons and keeping humanity safe—Layla tries to fit in, but that means hiding her own dark side from those she loves the most. Especially Zayne, the swoon-worthy, incredibly gorgeous and completely off-limits Warden she's crushed on since forever.

Then she meets Roth—a tattooed, sinfully hot demon who claims to know all her secrets. Layla knows she should stay away, but she's not sure she wants to—especially when that whole no-kissing thing isn't an issue, considering Roth has no soul.

But when Layla discovers she's the reason for the violent demon uprising, trusting Roth could not only ruin her chances with Zayne… it could brand her a traitor to her family. Worse yet, it could become a one-way ticket to the end of the world.
After reading the prequel, I couldn't wait to start this book. And it didn't disappoint! I loved reading about the girl who was half demon, half gargoyle/Warden. I found it so intriguing to read about both sides of her.
And speaking of both sides..the boys from both sides are H-O-T. I've said it before, but I'm not usually the girl that goes for the bad boy. But Roth just had something in him that didn't scream bad boy to me. And the ending proved this. Then wholesome Zayne is totally my type. If I were Layla, I wouldn't have had a clue who to pick! And the scenes between her and Roth are scorching!
There were some nice little twists and turns in the book and the ending made me feel sad. I have the next book, Stone Cold Touch to read next but I haven't even let myself read the synopsis. I don't want anything to be spoiled. I can only hope it's as good as this one is!
I gave this book a rating of 4.5/5.
*FTC Disclosure: I was given this book for free for an honest review as part of the Around the World Tours.