I finished reading The Return (Titan #1) by Jennifer L. Armentrout for an
Around the World ARC Tour
tonight.
From Goodreads: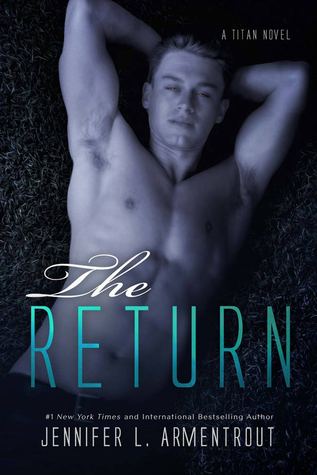 The Fates are cackling their bony asses off…

It's been a year since Seth made the deal with the gods that pledged his life to them. And so far, the jobs they've given him have been violent and bloody–which is kind of all right with him. But now Apollo has something else in mind for Seth. He's got to play protector while keeping his hands and fingers off, and for someone who really has a problem with restraint, this new assignment might be the most challenging yet.

Josie has no idea what this crazy hot guy's deal might be, but it's a good bet that his arrival means the new life she started after leaving home is about to be thrown into an Olympian-sized blender turned up to puree. Either Josie is going insane or a nightmare straight out of ancient myth is gunning for her.

But it might be the unlikely attraction simmering between her and the golden-eyed, secret-keeping Seth that may prove to be the most dangerous thing of all.

Because history has once again been flipped to repeat.

Book 1 in the new adult paranormal TITAN series, spin-off to the best selling COVENANT series.
So I have to admit that I was pretty confused at the beginning. I knew it was a spin-off of an adult series but I never read that series. And it seemed to refer to the past a lot. Yes, it did get explained throughout the book but I always felt behind. (Apparently everyone was wanting a book from Seth's point of view)
That being said, I enjoyed it. I enjoyed Josie and how real she was. She was kick ass and feisty yet still girly and innocent. I'm not quite sure how I feel about Seth. Part of me likes the whole bad-boy-with-a-softer-side thing he's got going on. But the other part of me finds him a little creepy. His relationship with Josie is definitely hot though!
I didn't like this book as much as I liked the Dark Element books I've read but I'm definitely interested to see what is going to happen next.
I gave this book a rating of 3.5/5.
The Return will be released on February 16, 2015.
*FTC Disclosure: I was given this book for free for an honest review as part of the Around the World Tours.