I just finished reading Forever (The Wolves of Mercy Falls #3) by Maggie Stiefvater.
From Goodreads: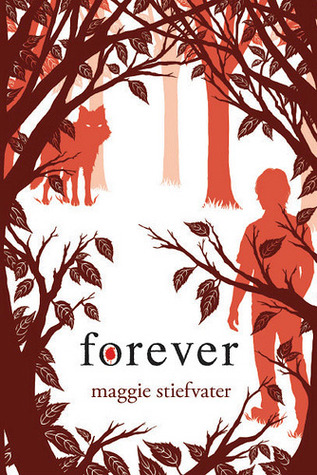 then.
When Sam met Grace, he was a wolf and she was a girl. Eventually he found a way to become a boy, and their loved moved from curious distance to the intense closeness of shared lives.

now.
That should have been the end of their story. But Grace was not meant to stay human. Now she is the wolf. And the wolves of Mercy Falls are about to be killed in one final, spectacular hunt.

forever.
Sam would do anything for Grace. But can one boy and one love really change a hostile, predatory world? The past, the present, and the future are about to collide in one pure moment--a moment of death or life, farewell or forever.
It's been almost 5 years since I read the first 2 books in this series. And I could tell. I couldn't remember anything about it. And unfortunately, the book doesn't do a good job of reminding me. So I kind of felt distant from the whole thing.
That being said, I did enjoy the world of Mercy Falls again. I liked Grace and Sam's relationship. And Cole and Isabel's in that twisted, not-really-a-relationship-but-you-know-its-gonna-be-one type of way.
The major event toward the end of the book was sad but needed to happen I guess. But I feel the very last chapter didn't make sense. There was too much that needed to be wrapped up at the end of the current times before the last chapter could jump forward many months.
This is supposed to be the last book in the series but there's a companion book that goes with it that I have to read next!
I gave this book a rating of 3.5/5.
*FTC Disclosure: I bought this book from a fellow blogger.