I just finished reading Love Fortunes and Other Disasters by Kimberly Karalius for an
Around the World ARC Tour
.
From Goodreads: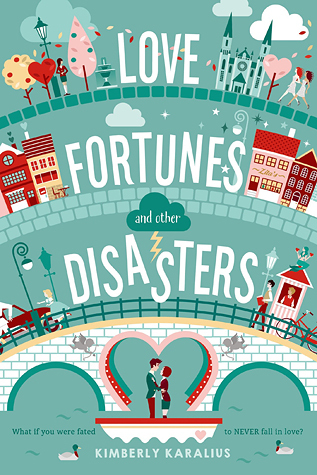 In the tradition of Alice Hoffman's Practical Magic, one girl chooses to change her fortune and her fate by falling in love.

Love is real in the town of Grimbaud, and Fallon Dupree has dreamed of attending high school there for years. After all, generations of Duprees have successfully followed the (100% accurate!) love fortunes from Zita's famous Love Charms Shop to happily marry their high school sweethearts. It's a tradition. So she is both stunned and devastated when her fortune states that she will NEVER find love.

Fortunately, Fallon isn't the only student with a terrible love fortune, and a rebellion is brewing. Fallon is determined to take control of her own fate—even if it means working with a notorious heartbreaker like Sebastian.

Will Fallon and Sebastian be able to overthrow Zita's tyranny and fall in love?
Here we go with an unpopular review. I just didn't like this book. I hate to say it but it annoyed me the whole time I was reading it. There is such a thing as too descriptive and I felt like this was it. The whole setting was just weird too. It had touches of magic in that there were different charms but that was the only "paranormal" (for lack of a better word) part of the book. And it was in a fictional place (obviously because of the magic) but I couldn't tell where this was supposed to be--America, Europe, it's own island? It's like the author couldn't decide if she wanted it to be contemporary or a different genre. I don't even know how to describe it. And then you have the fact that it seemed like it was set back in the eighties with talk of cassette tapes and libraries with card catalogs and no mention of computers.
I didn't really care for any of the characters. Fallon was only fifteen but away at a boarding school and she came across way older than a fifteen year old. Which struck me as weird. Why not make the character older? I guess if I had to pick one character to like, it would be Sebastian. A touch of bad boy but with a good boy heart.
The plot idea was okay. I think I would have enjoyed it more if it was set in a book that actually I got into. Ehhh
I gave this book a rating of 2/5.
Love Fortunes and Other Disasters
will be released on May 12, 2015.
*FTC Disclosure: I was given this book for free for an honest review as part of the Around the World Tours.