I finished Emmy & Oliver by Robin Benway a week or so ago for and
Around the World ARC Tour
.
From Goodreads: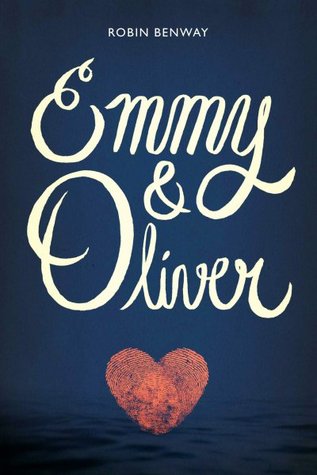 Emmy just wants to be in charge of her own life.
She wants to stay out late, surf her favorite beach—go anywhere without her parents' relentless worrying. But Emmy's parents can't seem to let her grow up—not since the day Oliver disappeared.

Oliver needs a moment to figure out his heart.

He'd thought, all these years, that his dad was the good guy. He never knew that it was his father who kidnapped him and kept him on the run. Discovering it, and finding himself returned to his old hometown, all at once, has his heart racing and his thoughts swirling.

Emmy and Oliver were going to be best friends forever, or maybe even more, before their futures were ripped apart. In Emmy's soul, despite the space and time between them, their connection has never been severed. But is their story still written in the stars? Or are their hearts like the pieces of two different puzzles—impossible to fit together?

Readers who love Sarah Dessen will tear through these pages with hearts in throats as Emmy and Oliver struggle to face the messy, confusing consequences of Oliver's father's crime. Full of romance, coming-of-age emotion, and heartache, these two equally compelling characters create an unforgettable story.
I thought this was a fresh take on a tragic kidnapping story. Instead of it being about the kidnapping, or about how the victim deals with life after returning home, this was about how the kidnapping affected the best friend of the victim.
I really liked Emmy and Oliver. Emmy was so easy to get absorbed in. She was so real. Her feelings were real, her actions were real, and the way she talked was real. And Oliver. Wow. I felt so much for him! Stuck in the middle because even though he knew what his dad did was wrong, he was still his dad and loved him.
And I loved the connection between the two of them. It was quick and that often feels forced or fake to me, but here it didn't. Maybe because they knew each other when they were little. Either way, it felt right to me.
This was a sweet story--one that had me rooting for Emmy & Oliver.
I gave this book a rating of 4/5.
Emmy & Oliver
will be released on June 23, 2015.
*FTC Disclosure: I was given this book for free for an honest review as part of the Around the World Tours.