I finished reading Nowhere But Here (Thunder Road #1) by Katie McGarry last night for an
Around the World ARC Tour.
From Goodreads: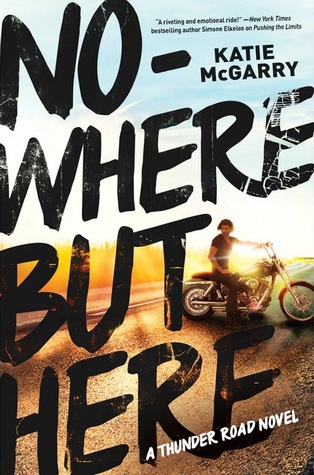 Seventeen-year-old Emily likes her life the way it is: doting parents, good friends, good school in a

Oz wants one thing: to join the Reign of Terror. They're the good guys. They protect people. They're…family. And while Emily—the gorgeous and sheltered daughter of the club's most respected member—is in town, he's gonna prove it to her. So when her father asks him to keep her safe from a rival club with a score to settle, Oz knows it's his shot at his dream. What he doesn't count on is that Emily just might turn that dream upside down.

No one wants them to be together. But sometimes the right person is the one you least expect, and the road you fear the most is the one that leads you home.
safe neighborhood. Sure, she's curious about her biological father—the one who chose life in a motorcycle club, the Reign of Terror, over being a parent—but that doesn't mean she wants to be a part of his world. But when a reluctant visit turns to an extended summer vacation among relatives she never knew she had, one thing becomes clear: nothing is what it seems. Not the club, not her secret-keeping father and not Oz, a guy with suck-me-in blue eyes who can help her understand them both.
I've read several of Katie McGarry's books and loved them. But I have to admit, reading the summary of this one didn't do it for me. But I signed up to read it just because of who the author was. And a few chapters in, my mind hadn't changed. Motorcyles and gangs just didn't do it for me. Oz, the "leading man" was too rough for me. There wasn't much sweetness to him. And even in my bad guys, I need some kind of sweetness.
But then suddenly the book was over and I found myself realizing that I had gotten completely absorbed in it. Somewhere along the line, Oz had turned sweet. And the tough guy was still completely there, but there was sweetness lurking. Oh, and you know I loved Emily's comebacks. Her personality cracked me. She didn't take any crap!
The way of life of the Reign of Terror was completely not my style. It's kind of everything I'm against. But I found myself loving all the members of the huge "family."
The ending and the big surprise about Emily's past really did surprise me. I had a few ideas about what it could be but I was so far off! It was shocking and completely had me hooked!
I need more by Katie McGarry!
I gave this book a rating of 4/5.
Nowhere But Here
will be released on May 26, 2015.
*FTC Disclosure: I was given this book for free for an honest review as part of the Around the World Tours.