I finished reading Horizon (Soul Seekers #4) by Alyson Noel today.
From Goodreads: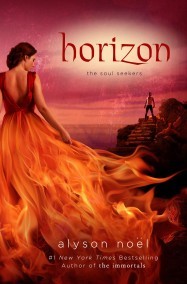 Daire Santos is the last of the Soul Seekers, and the only thing standing between the Richters and the destruction of everyone she loves. With her grandmother gone and Cade back in Enchantment, Daire must finally step into her destiny and lead the fight against the Richters. But what if that means sacrificing the person she loves most?

Bound to the Richters by blood, Dace struggles against the darkness growing inside him that threatens to claim Daire too. Though Daire refuses to give up on him, the choice may not be hers. An epic battle is on the horizon and the end of the world looms near. With such insurmountable odds stacked against them, is their love really enough to conquer all?
This fourth book in the series summed up quite nicely. Although I do have to say that the ending left me wondering if this was really the last book or if there will be another one in the future. I mean, everything wrapped up, but the very end has something that could definitely turn into another book.
Once again, I'm sounding like a broken record--I just didn't connect Daire. I think maybe it's the Native American lore that feeds into the books that I'm just not getting into.
I am glad it wrapped up the way it did. It all seemed right and well. But I'm also glad I'm done with the series!
I gave this book a rating of 3/5.
*FTC Disclosure: I traded this book with a friend.