I finished My Life Next Door by Huntley Fitzpatrick last week while on vacation in Hilton Head.
From Goodreads: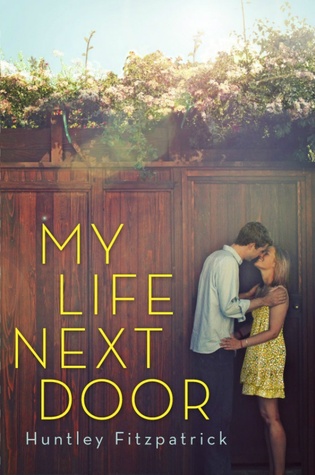 The Garretts are everything the Reeds are not. Loud, messy, affectionate. And every day from her

As the two fall fiercely for each other, stumbling through the awkwardness and awesomeness of first love, Jase's family embraces Samantha - even as she keeps him a secret from her own. Then something unthinkable happens, and the bottom drops out of Samantha's world. She's suddenly faced with an impossible decision. Which perfect family will save her? Or is it time she saved herself?

A transporting debut about family, friendship, first romance, and how to be true to one person you love without betraying another.
rooftop perch, Samantha Reed wishes she was one of them . . . until one summer evening, Jase Garrett climbs up next to her and changes everything.
I got easily absorbed into the story. I thought I knew what the unthinkable thing might be but I wasn't even close.
I liked Samantha. She was easy to relate to and real. And Jase was your typical great guy-next-door. They really were just the perfect couple.
Even the side characters were great. I wanted to hate Tim, I really did. He was a complete screwup and seemed like such a loser. But he always seemed to redeem himself. And he really wasn't such a bad guy. I also loved all of Jase's family. The little kids were so cute and funny and his parents were just all around great.
I liked how Samantha handled the secret. Yes, not ideal at first but she came around and did the right thing.
I'm looking forward to reading the next book in the series, The Boy Most Likely To, which is all about Tim and Alice.
I gave this book a rating of 4/5.
*FTC Disclosure: I received this book from a friend.