I finished reading After Eden by Helen Douglas on Thursday.
From Goodreads: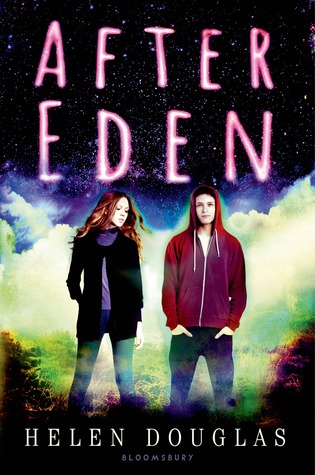 The day Eden met Ryan changed her world forever. Actually, not just her world. Ryan has time traveled from the future to save the world. In a few weeks, Eden's best friend Connor will discover a new planet—one where human life is possible. The discovery will make him famous. It will also ruin the world as we know it. When Ryan asks Eden for help, she must choose between saving the world and saving her best friend's greatest achievement. And a crush on Ryan complicates things more than she could have imagined. Because Connor is due to make the discovery after the girl he loves breaks his heart. That girl is Eden.

Grounded in a realistic teen world with fascinating sci-fi elements, After Eden is a heart-pounding love triangle that's perfect for dystopian fans looking for something new to devour.
Sci-fi doesn't normall do it for me. But I so enjoyed this one. The whole premise of Ryan coming back in time to stop one small action from happening to save the world is crazy to think about. And Eden's role in it as well.
Eden and Ryan were pretty okay as main characters. Their relationship was the typical insta-love that you often read about in YA books. I did not like Connor, however. He just seemed like a jerk the whole time. I get that he was jealous of Ryan but he really had no redeeming qualities in my eye.
I think the reason I flew through this book was because of the whole plot. (usually it's the characters).
There's one twist at the end that I didn't see coming. Maybe I should have but thinking back, I still didn't see any clues. There's a second book in the series and I'll be interested in reading that one.
I gave this book a rating of 4/5.
*FTC Disclosure: I was given this book for free for an honest review as part of the Around the World Tours.