I finished reading Reign of Shadows by Sophie Jordan on Thursday for an
Around the World ARC Tour
.
From Goodreads: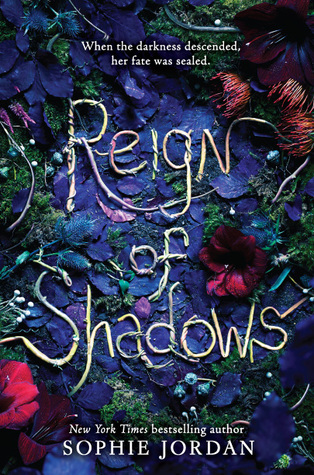 Seventeen years ago, an eclipse cloaked the kingdom of Relhok in perpetual darkness. In the chaos, an evil chancellor murdered the king and queen and seized their throne. Luna, Relhok's lost princess, has been hiding in a tower ever since. Luna's survival depends on the world believing she is dead.

But that doesn't stop Luna from wanting more. When she meets Fowler, a mysterious archer braving the woods outside her tower, Luna is drawn to him despite the risk. When the tower is attacked, Luna and Fowler escape together. But this world of darkness is more treacherous than Luna ever realized.

With every threat stacked against them, Luna and Fowler find solace in each other. But with secrets still unspoken between them, falling in love might be their most dangerous journey yet.

With lush writing and a star–crossed romance, Reign of Shadows is Sophie Jordan at her best.
This story has the makings of a great fairy tale. And it had me hooked. There was romance, and evil king, crazy characters (night dwellers), and even a tower!
I really liked Luna. She has a unique characteristic that I didn't see coming at first. And it made her seem so strong. I feel like her birth has something to do with the eclipse and why they're in the dark, but I can't put my finger on it yet. And I liked Fowler too--classic tough guy turned softie.
There was lots of actions in this one. And just enough romance. I wanted to keep reading to find out what was going to happen. It ends on a cliff hanger. And quite a weird one, at that. It'll be interesting to see where the next book goes!
I gave this book a rating of 4/5.
Reign of Shadows
will be released on February 9, 2016.
*FTC Disclosure: I was given this book for free for an honest review as part of the Around the World Tours.