I finished reading Firstlife (Everlife #1) by Gena Showalter last night for an
Around the World ARC Tour
.
From Goodreads: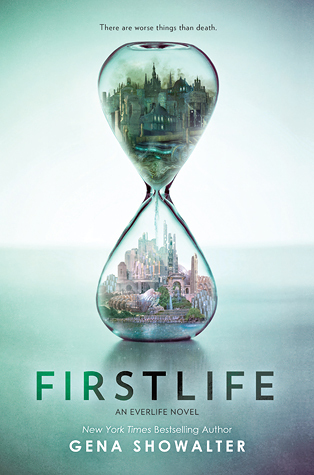 ONE CHOICE.
TWO REALMS.
NO SECOND CHANCE.

Tenley "Ten" Lockwood is an average seventeen-year-old girl…who has spent the past thirteen months locked inside the Prynne Asylum. The reason? Not her obsession with numbers, but her refusal to let her parents choose where she'll live—after she dies.

There is an eternal truth most of the world has come to accept: Firstlife is merely a dress rehearsal, and real life begins after death.

In the Everlife, two realms are in power: Troika and Myriad, longtime enemies and deadly rivals. Both will do anything to recruit Ten, including sending their top Laborers to lure her to their side. Soon, Ten finds herself on the run, caught in a wild tug-of-war between the two realms who will do anything to win the right to her soul. Who can she trust? And what if the realm she's drawn to isn't home to the boy she's falling for? She just has to stay alive long enough to make a decision…
So. Unfortunately for me, I have to finish every book I start. Otherwise this book would have been a DNF from a few chapters in. And it only got slightly better for me.
Myriad and Troika. Two realms. That I kept getting completely confused. It took me at least half the book, if not longer to understand the difference in the two and remember them. Ugh. Not fun to constantly be questioning what is going on. (Oh and don't get me started about the short message pages and trying to figure out who was sending them.)
And Ten. I couldn't stand her. She seemed like she wanted to be lovable but was portrayed as too tough and there was nothing that made her sympathetic to me. And the whole Archer versus Killian thing. I actually felt sorry for the boys.
The story was too dark for me. There's such thing as an action packed book, and then there's such thing as a book with way more drama than necessary. So many things happened that were just weird and left me saying "Why?"
I was really hoping to like this book. I really was.
I gave this book a rating of 2/5.
*FTC Disclosure: I was given this book for free for an honest review as part of the Around the World Tours.