I finished reading Illusions of Fate by Kiersten White today for an
Around the World ARC Tour
.
From Goodreads: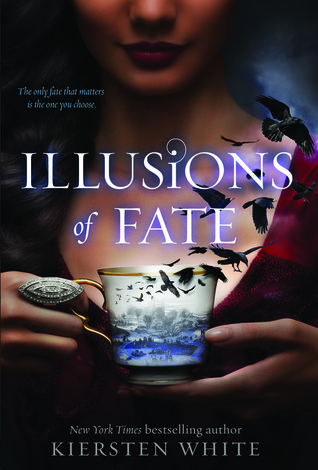 Downton Abbey meets Cassandra Clare in this lush, romantic fantasy from New York Times bestselling author Kiersten White.

"I did my best to keep you from crossing paths with this world. And I shall do my best to protect you now that you have."

Jessamin has been an outcast since she moved from her island home of Melei to the dreary country of Albion. Everything changes when she meets Finn, a gorgeous, enigmatic young lord who introduces her to the secret world of Albion's nobility, a world that has everything Jessamin doesn't—power, money, status…and magic. But Finn has secrets of his own, dangerous secrets that the vicious Lord Downpike will do anything to possess. Unless Jessamin, armed only with her wits and her determination, can stop him.

Kiersten White captured readers' hearts with her New York Times bestselling Paranormalcy trilogy and its effortless mix of magic and real-world teenage humor. She returns to that winning combination of wit, charm, and enchantment in Illusions of Fate, a sparkling and romantic new novel perfect for fans of Cassandra Clare, The Madman's Daughter, and Libba Bray.
I have to admit, it took me awhile to get into this. It read like a historical novel and I don't really get into those. But the magical part of the book along with Kiersten White's writing (which I love) soon brought me around.
I think because of the setting in the book, I never really fell in love with the characters. They all seemed a bit distant. Okay, that's not true. I loved Eleanor. She cracked me up and was someone I'd be friends with in real life. But Jessamin (love the name, by the way) and Finn just never really drew me in.
But I did start to really enjoy the story. I loved Sir Bird and the book. And I liked the magical aspects to the story--who had magic and what magic could be done. And so while I did take a little while to warm up to the story, once I did, it was a quick read.
I gave this book a rating of 3.5/5.
Illusions of Fate
will be released on September 9, 2014.
*FTC Disclosure: I was given this book for free for an honest review as part of the Around the World Tours.