I finished reading The Heir (The Selection #4) by Kiera Cass last week.
From Goodreads: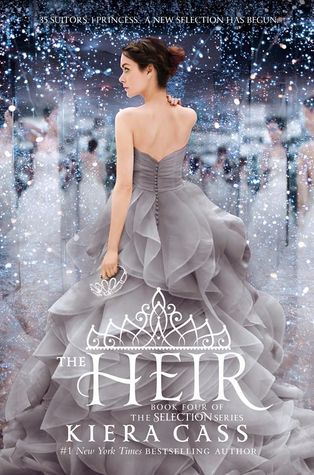 Princess Eadlyn has grown up hearing endless stories about how her mother and father met. Twenty years ago, America Singer entered the Selection and won the heart of Prince Maxon—and they lived happily ever after. Eadlyn has always found their fairy-tale story romantic, but she has no interest in trying to repeat it. If it were up to her, she'd put off marriage for as long as possible.

But a princess's life is never entirely her own, and Eadlyn can't escape her very own Selection—no matter how fervently she protests.

Eadlyn doesn't expect her story to end in romance. But as the competition begins, one entry may just capture Eadlyn's heart, showing her all the possibilities that lie in front of her . . . and proving that finding her own happily ever after isn't as impossible as she's always thought.
Yup--once again this show reminds me of one of my favorite reality TV shows, except this time it's the Bachelorette since it's told from the lady's point of view. So of course I dug in. And loved every bit of it!
I was a little thrown off that Prince Maxon's child was a teenager at first. But I absolutely loved Eadlyn. She was spunky and independent and knew her faults. But she also wasn't afraid to admit when she was wrong. I loved the family dynamics between her and her parents along with her twin brother and two younger brothers.
And it was fun to read about how a bunch of guys trying to win her heart would act. I fell in love with several of them. And I definitely have my 2 favorites. I'm going with Kile, who she grew up with, and Erik, the translator.

My one complaint--we don't find out who she chooses! I have to wait until the next book to find out! And I don't want to! This was one of my favorite books of the year!

I gave this book a rating of 4.5/5.
*FTC Disclosure: I traded this book with a friend.