I finished reading In Real Life by Jessica Love on Friday for an
Around the World ARC Tour
.
From Goodreads: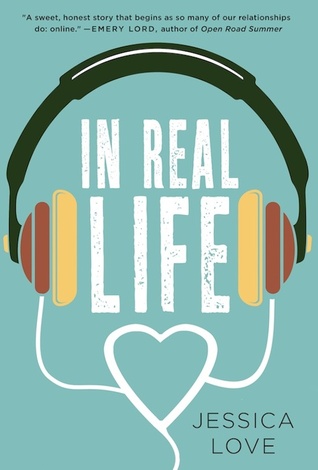 Hannah Cho and Nick Cooper have been best friends since 8th grade. They talk for hours on the phone, regularly shower each other with presents, and know everything there is to know about one another.

There's just one problem: Hannah and Nick have never actually met.

Hannah has spent her entire life doing what she's supposed to, but when her senior year spring break plans get ruined by a rule-breaker, she decides to break a rule or two herself. She impulsively decides to road trip to Vegas, her older sister and BFF in tow, to surprise Nick and finally declare her more-than-friend feelings for him.

Hannah's romantic gesture backfires when she gets to Vegas and meets Nick's girlfriend, whom he failed to mention. And it turns out his relationship status isn't the only thing he's been lying to her about. Hannah knows the real Nick can't be that different from the online Nick she knows and loves, but now she only has one night in Sin City to figure out what her feelings for Nick really are, all while discovering how life can change when you break the rules every now and then.
Contemporary novels are hit and miss with me. Sometimes they seem to juvenile. But when a friend told me I had to read it, I said okay. And I was glad I did!
In so many ways, I could identify with Hannah. I was the straight-A student who had her life planned and followed all the rules. And I would love have to loved to have seen my younger self do something spontaneous like Hannah did.
I felt so conflicted about Nick. I liked him but for a while I didn't like him--I didn't get the whole lying about the girlfriend thing. He seemed to really love Hannah but then he also seemed completely into his girlfriend. And the go-by-the-rules part of me squirmed at some parts of the story since it veered too much into the cheating world for me. But. But--it ended how it should have, even if it all wrapped up a little too nicely.
Not that I didn't enjoy it, because I did. There was lots of drama to fall into and antics in Las Vegas. And several mentions of Disney things (yes!!) So if you're looking for a contemporary YA novel to dig in to, this could be right up your alley.
I gave this book a rating of 4/5.
In Real Life
will be released on March 1, 2016.
*FTC Disclosure: I was given this book for free for an honest review as part of the Around the World Tours.