I read The Queen (The Selection Stories #0.4) by Kiera Cass last week.
From Goodreads: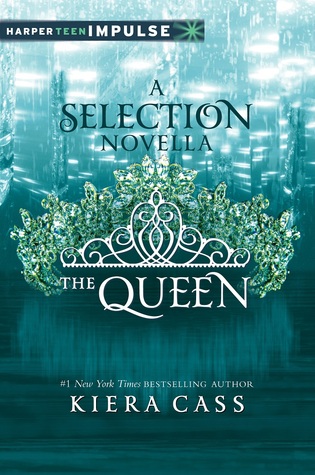 Before America Singer's story began, another girl came to the palace to compete for the hand of a
different prince….
Don't miss this digital original novella set in the captivating world of Kiera Cass's #1 New York Times bestselling Selection series. This prequel story takes place before the events of The Selection and is told from the point of view of Prince Maxon's mother, Amberly. Discover a whole new Selection with this inside look at how Maxon's parents met—and how an ordinary girl named Amberly became a beloved queen.
I series just adore this series. I loved reading more about Amberly's side of her Selection. My only complaint--I want to read more. I totally think that this could be a whole spinoff series. I'd gobble it up!
I didn't remember reading about Amberly being so sickly so this was interesting to read. And I didn't realize Prince Maxon's dad was so sweet either. Yup, just love it!
I gave this book a rating of 4/5.
*FTC Disclosure: I bought this book..