I just finished reading Allegiant (Divergent #3) by Veronica Roth.
From Goodreads: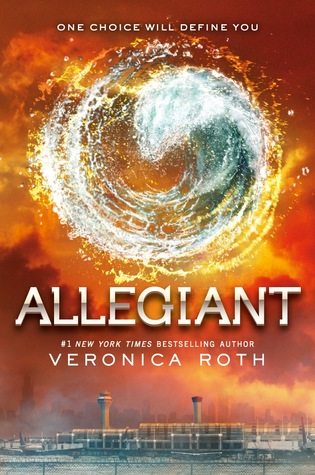 The faction-based society that Tris Prior once believed in is shattered--fractured by violence and

But Tris's new reality is even more alarming than the one she left behind. Old discoveries are quickly rendered meaningless. Explosive new truths change the hearts of those she loves. And once again, Tris must battle to comprehend the complexities of human nature--and of herself--while facing impossible choices about courage, allegiance, sacrifice, and love.

Told from a riveting dual perspective, Allegiant, by #1 New York Times best-selling author Veronica Roth, brings the Divergent series to a powerful conclusion while revealing the secrets of the dystopian world that has captivated millions of readers in Divergent and Insurgent.
power struggles and scarred by loss and betrayal. So when offered a chance to explore the world past the limits she's known, Tris is ready. Perhaps beyond the fence, she and Tobias will find a simple new life together, free from complicated lies, tangled loyalties, and painful memories.
I really enjoyed the first two books so I was eager to read the ending to the trilogy (although I need to get my hands on the Four novellas). Once again, I couldn't remember what had happened in Insurgent and only vaguely remembered parts from the Divergent movie. But I think I quickly caught up.
I really liked Tris and Tobias's relationship in this book. I think it grew in the right ways and after not being too sure of it and him in the previous book, I think I decisively liked him in this one. And of course, I still loved Tris.
We got more background on the factions and where the group came from. And while at first I found it a little confusing, I did ultimately find it intriguing. To think of how their "city" came about was interesting.
I remember that when the book came out, a lot of people didn't like it. But the only problem I had with it was the switching back and forth between Tris and Tobias telling the story (I can't remember if this occurred in the other two books). Most of the time it alternated, but sometimes two chapters in a row were told by the same character but I'd forget to pay attention. Anyways, yes, the ending was way sad. But it was right and it fit and it made sense. It just felt complete. And with that, I can't wait for the next two movies!
I gave this book a rating of 4/5.
*FTC Disclosure: I traded this book with a friend.