I finished reading The Start of Me and You by Emery Lord last Sunday for an
Around the World ARC Tour.
From Goodreads: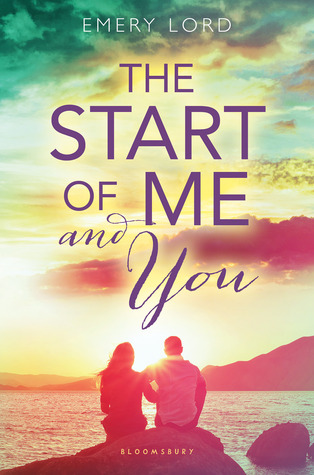 It's been a year since it happened—when Paige Hancock's first boyfriend died in an accident. After shutting out the world for a year, Paige is finally ready for a second chance at high school . . . and she has a plan. First: Get her old crush, Ryan Chase, to date her—the perfect way to convince everyone she's back to normal. Next: Join a club—simple, it's high school after all. But when Ryan's sweet, nerdy cousin, Max, moves to town and recruits Paige for the Quiz Bowl team (of all things!) her perfect plan is thrown for a serious loop. Will Paige be able to face her fears and finally open herself up to the life she was meant to live?

Brimming with heartfelt relationships and authentic high-school dynamics The Start of Me and You proves that it's never too late for second chances.
I really enjoyed this book. I felt so bad for Paige. I'm not quite sure of the right words, but I found it so
real
that she was grieving and yet she knew that she didn't know him that well but that part of the hard part of moving on was that everyone pitied her. If that makes any sense.
I liked that she knew who she was and stuck to it. And yes, the ending is totally predictable but that didn't stop me from enjoying the journey of getting there.
The whole cast of characters was pretty great, actually. I loved all of her friends. Such a great group of girls. Normal girls. Not the popular ones, not the outcast type. Just your typical great group of tight-knit gal pals. And Max and Ryan were great guys. Since we knew early on that Paige had crushed on Ryan for a while, I thought maybe we would find out that he was a jerk or something. But I was happy to see that we didn't.
I thoroughly enjoyed reading about Paige's journey in dealing with her grief and growing into the person that she would become.
I gave this book a rating of 4/5.
The Start of Me and You
will be released on March 31, 2015.
*FTC Disclosure: I was given this book for free for an honest review as part of the Around the World Tours.