I just finished reading Even in Paradise by Chelsey Philpot for an
Around the World ARC Tour
.
From Goodreads: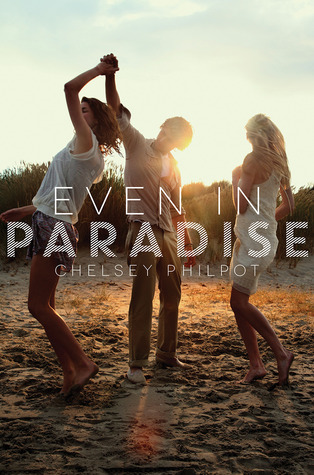 When Julia Buchanan enrolls at St. Anne's at the beginning of junior year, Charlotte Ryder already knows all about the former senator's daughter. Most people do... or think they do.

Charlotte certainly never expects she'll be Julia's friend. But almost immediately, she is drawn into the larger than-life-new girl's world—a world of midnight rendezvous, dazzling parties, palatial vacation homes, and fizzy champagne cocktails. And then Charlotte meets, and begins falling for, Julia's handsome older brother, Sebastian.

But behind her self-assured smiles and toasts to the future, Charlotte soon realizes that Julia is still suffering from a tragedy. A tragedy that the Buchanan family has kept hidden … until now.
Ehhh---right off the bat, the characters in the story annoyed me. Julia got on my nerves. She acted immature and childish and honestly, I'm not sure why anyone would by dying to be friends with her. (And really, what was with the stuffed moose??) The only character that I liked was the little girl Cordelia. But I don't get the fascination with the rest of the family. They were just all screwed up.
Charlotte grew on me a little at the very end but only a little and not really enough to make up for the weakness in the rest of the book. I kept for getting that she had a great family back home. With the way she acted, you'd think she grew up neglected and didn't have a family.
The sad thing is that there could be a really good plot there and an emotional one at that. But since I didn't connect with or care about any of the characters, the plot just kind of fell flat for me. There was a predictable twist at the end that I figured out early on but it did make for a nice little "surprise."
I gave this book a rating of 2.5 out of 5 rating.
Even in Paradise
will be released on October 14, 2014.
*FTC Disclosure: I was given this book for free for an honest review as part of the Around the World Tours.