I finished reading Fire & Flood by Victoria Scott early this morning.
From Goodreads: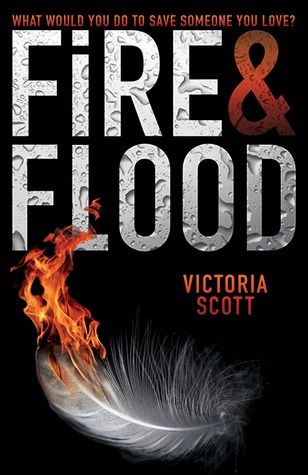 Time is slipping away....

Tella Holloway is losing it. Her brother is sick, and when a dozen doctors can't determine what's wrong, her parents decide to move to Montana for the fresh air. She's lost her friends, her parents are driving her crazy, her brother is dying—and she's helpless to change anything.

Until she receives mysterious instructions on how to become a Contender in the Brimstone Bleed. It's an epic race across jungle, desert, ocean, and mountain that could win her the prize she desperately desires: the Cure for her brother's illness. But all the Contenders are after the Cure for people they love, and there's no guarantee that Tella (or any of them) will survive the race.

The jungle is terrifying, the clock is ticking, and Tella knows she can't trust the allies she makes. And one big question emerges: Why have so many fallen sick in the first place?

Victoria Scott's breathtaking novel grabs readers by the throat and doesn't let go.
The whole time I read this, I kept thinking that it was like Hunger Games Lite. The whole trying to survive in a climate/location that's your own and fighting to be the one who wins. But there were some interesting and unique aspects to this book.
I really liked the Pandoras. I have such a soft spot for animals and I found it so endearing to read how these animals helped their Contenders. Well, I should say most of the time. There was one character who was horrible to his Pandora but he got what he deserved. And I loved seeing what special powers each Pandora has. I want a Maddox! (Don't get me wrong, I don't condone any testing being done on animals or the mixing of animals to give them this power.)
I liked Tella. She was funny and quirky and I found myself laughing at a lot of things she said and realizing that I'd probably say the same things. And I like that she stuck to who she was and didn't turn hard because of the way things happened.
There were definitely a few surprises thrown in that I didn't see coming. Which makes it all that more fun. I cannot wait to read the next book in the series. I do have to say that I think this one ended at a weird place. I would have thought that each book would focus on one environment. Or that the first book would focus on all three environments and then the next book would be about what happened next.
But this focused on 2. Either way, I can't wait to get my hands on Salt & Stone, the next one!
I gave this book a rating of 3.5/5.
*FTC Disclosure: This book was given to me for free by the publisher for a honest review.