I finished reading The Guard (The Selection #2.5) by Kiera Cass today.
From Goodreads: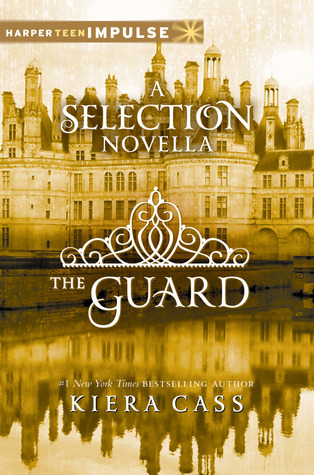 Before America Singer met Prince Maxon . . .
Before she entered the Selection . . .
She was in love with a boy named Aspen Leger.

Don't miss this digital original novella set in the captivating world of Kiera Cass's #1 New York Times bestselling Selection trilogy. This brand new 64-page story begins just after the group of Selected girls is narrowed down to the Elite and is told from Aspen's point of view. The Guard also features a teaser to The One, the thrilling conclusion to The Selection trilogy.
Aspen irritated me in this novel. I didn't remember too much about how I felt about him so I just now went back and re-read my reviews. And apparently I didn't see what America liked about him. And I still don't. He seems so sure that America loves him but I'm not. And then when America ran into the forest with Rebels behind her, he didn't go immediately after her. If he really loved her, he could have gone and just used the excuse that he was trying to save one of Maxon's favorites.
Glad I read it, but now I'm ready for The One!
I gave this book a rating of 3/5.
*FTC Disclosure: I bought this book.