I just finished reading Stitching Snow by R.C. Lewis for an
Around the World ARC Tour
.
From Goodreads:
Princess Snow is missing.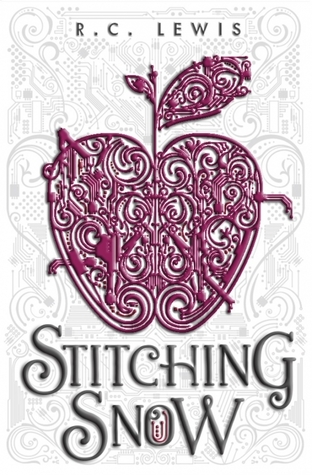 Her home planet is filled with violence and corruption at the hands of King Matthias and his wife as they attempt to punish her captors. The king will stop at nothing to get his beloved daughter back—but that's assuming she wants to return at all.

Essie has grown used to being cold. Temperatures on the planet Thanda are always sub-zero, and she fills her days with coding and repairs for the seven loyal drones that run the local mines.

When a mysterious young man named Dane crash-lands near her home, Essie agrees to help the pilot repair his ship. But soon she realizes that Dane's arrival was far from accidental, and she's pulled into the heart of a war she's risked everything to avoid. With the galaxy's future—and her own—in jeopardy, Essie must choose who to trust in a fiery fight for survival.
I love fairy tale retellings. And I could tell right away that I would like this version of Snow White. I was right! There were so many fun references and links to the fairy tale.
This book reminded me a lot of Cinder by Marissa Meyer. They both were a retelling of a fairy tale and had a main character who loved to tinker with machines and who had a secret past. And I really enjoyed this one.
I enjoyed Essie. I didn't really see her secret past coming but I should have. And Dane's as well! I thought they were cute together. I also really liked the seven drones, which was like the seven dwarfs. One of them is even named Dimwit, which of course makes you think of Dopey.
Overall, it was a fun story. The plot held my attention and I read it in two sittings! I'd be interested to see what would happen when (if?) they make a sequel!
I gave this book a rating of 4/5.
Stitching Snow
will be released on October 14, 2014.
*FTC Disclosure: I was given this book for free for an honest review as part of the Around the World Tours.