I finished reading The One (The Selection #3) by Kiera Cass yesterday.
From Goodreads: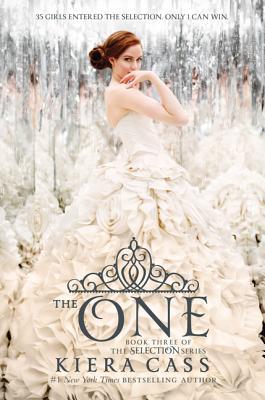 The highly anticipated third book in Kiera Cass's #1 New York Times bestselling Selection series, The One will captivate readers who love dystopian YA fiction and fairy tales. The One is perfect for the fans who have followed America's whirlwind romance since it began—and a swoon-worthy read for teens who have devoured Veronica Roth's Divergent, Ally Condie's Matched, or Lauren Oliver's Delirium.

The Selection changed America Singer's life in ways she never could have imagined. Since she entered the competition to become the next princess of Illéa, America has struggled with her feelings for her first love, Aspen—and her growing attraction to Prince Maxon. Now she's made her choice . . . and she's prepared to fight for the future she wants.

Find out who America will choose in The One, the enchanting, beautifully romantic third book in the Selection series!
Once again, this book so reminded me of the Bachelor series! And I'm a fan of the show, so that's a good thing! I couldn't quite remember everything that happened in the previous two books but it didn't matter too much.
Looking back on my review, at the end of the Elite, I wasn't really fond of either Aspen or Maxon. But in this book I really liked Maxon. I thought he was so sweet to America and his intentions were well meant. Aspen, however was still just okay.
There were definitely some twists in this book. In fact, at one point, I was at work reading on break and I literally gasped out loud and covered my mouth. Break was over right at the point and I was frustrated because I just wanted to keep reading!
I thought that this was a trilogy, but I see that a fourth book is coming out next year and a fifth book is in the works! And there are a couple of novellas/short stories to keep me busy too!
I gave this book a rating of 4.5/5.
*FTC Disclosure: I received this copy of the book from a friend.