I finished reading Better Off Friends by Elizabeth Eulberg today.
From Goodreads: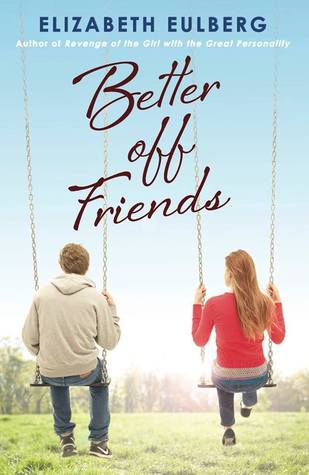 For Macallan and Levi, it was friends at first sight. Everyone says guys and girls can't be just friends, but these two are. They hang out after school, share tons of inside jokes, their families are super close, and Levi even starts dating one of Macallan's friends. They are platonic and happy that way.

Eventually they realize they're best friends — which wouldn't be so bad if they didn't keep getting in each other's way. Guys won't ask Macallan out because they think she's with Levi, and Levi spends too much time joking around with Macallan, and maybe not enough time with his date. They can't help but wonder . . . are they more than friends or are they better off without making it even more complicated?

From romantic comedy superstar Elizabeth Eulberg comes a fresh, fun examination of a question for the ages: Can guys and girls ever really be just friends? Or are they always one fight away from not speaking again — and one kiss away from true love?
I so enjoyed this story. It was told by Macallan and Levi in alternating chapters of their view of their friendship together. And in between chapters is commentary from them in current day. Yes, you can probably guess the ending, but the getting there made the story.
Both Macallan and Levi are such great characters. They grew up during their friendship and faced challenges that all teens face (and then some). Nothing was overly dramatic. Just real. And I loved their banter and the way they were together. Whether they ended up as a couple or as just friends--one thing was obvious--they were soul mates (this was never said in the book but I just feel that sometimes best friends can be soul mates).
If I had one complaint, and that's minor, it would be that I wish that there was more current day happenings at the end of the story. I wanted more (that's not a bad thing). I just couldn't get enough of the two of them! I wouldn't be mad if the idea of a sequel came about. Definitely one of my favs of the year so far!
I gave this book a rating of 4.5/5.
*FTC Disclosure: This book was given to me for free by the publisher for a honest review.