I finished reading Shift (Shade #2) by Jeri Smith-Ready today.
From Goodreads: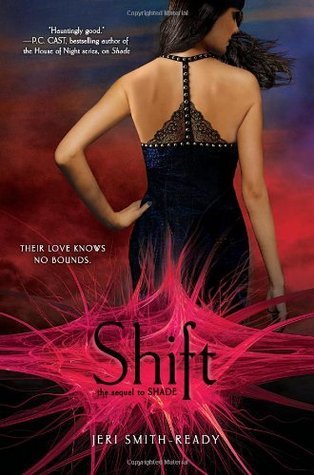 Aura's life is anything but easy. Her boyfriend, Logan, died, and his slides between ghost and shade have left her reeling. Aura knows he needs her now more than ever. She loves Logan, but she can't deny her connection with the totally supportive, totally gorgeous Zachary. And she's not sure that she wants to.
Logan and Zachary will fight to be the one by her side, but Aura needs them both to uncover the mystery of her past—the mystery of the Shift.
As Aura's search uncovers new truths, she must decide whom to trust with her secrets…and her heart.
For some reason, this book took me a while to read. I'd get absorbed in it but when I came up for air, I'd have read way less pages than I thought. I enjoyed it so I'm not sure what my problem was.
Anyways, I remembered that there was a cliffhanger at the end of the first book but for the life of me, I could't remember what it was. Luckily I was clued in pretty quickly at the beginning of this book and remembered most of it.
I liked learning more about Aura's mom and why the Shift happened. And I liked Aura and Zachary together and Logan. But that's all I really remember. For some reason, it's just not sticking with me.
I'm glad I have the final book in the series, Shine, to read next. Hopefully I'll be more with it!
I gave this book a rating of 3.5/5.
*FTC Disclosure: I traded this book with a friend.