I finished reading The Murder Complex by Lindsay Cummings yesterday for an
Around the World ARC
review.
From Goodreads: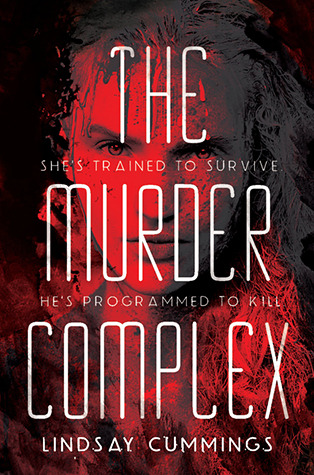 An action-packed, blood-soaked, futuristic debut thriller set in a world where the murder rate is higher than the birthrate. For fans of Moira Young's Dust Lands series, La Femme Nikita, and the movie Hanna.

Meadow Woodson, a fifteen-year-old girl who has been trained by her father to fight, to kill, and to survive in any situation, lives with her family on a houseboat in Florida. The state is controlled by The Murder Complex, an organization that tracks the population with precision.

The plot starts to thicken when Meadow meets Zephyr James, who is—although he doesn't know it—one of the MC's programmed assassins. Is their meeting a coincidence? Destiny? Or part of a terrifying strategy? And will Zephyr keep Meadow from discovering the haunting truth about her family?

Action-packed, blood-soaked, and chilling, this is a dark and compelling debut novel by Lindsay Cummings.
This book was very dark. And gory. And dark. Did I mention gory? Yeah, I'm not known to like those things. I do think the whole premise of the story was pretty interesting. Someone created a cure to illnesses so the population is being too large. So murderers were created to help solve this problem. And I guess that would entail lots of blood and violence.
As for the characters, they were okay. Meadow was a super strong character. And Zephyr was an interesting mix of strong when he's an assassin and regular when he's not. I'm not sure I was really feeling their relationship though.
Anyways, if you like your stories dark and gory, then this is right up your alley. As for me, I need something lighter to read after that.
I gave this book a rating of 3/5.
*FTC Disclosure: I was given this book for free for an honest review as part of the Around the World Tours.